Dispatching Whitepaper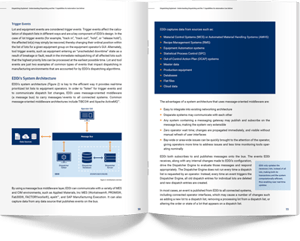 Production targets are the pulse of the manufacturing floor. Although everyone is 100% committed to them, month after month, the actual numbers fall short. Yield and quality are not currently an issue. Production tools and processes are stable. The factory is staffed and trained. So why are the targets so hard to consistently hit?
Now imagine that every time an operator (or automated material handling system) is preparing to start material to process, they simply check their constantly up-to-date, prioritized WIP list that is optimized to enable the overall manufacturing line to hit targets. Would knowing the right material to process, right now, on the right piece of equipment help meet production targets? We think so.
Efficient, automated dispatching of WIP is a fundamental enabler toward achieving production targets in today's complex manufacturing environments.
What you will learn:
Core dispatching concepts
The 7 critical capabilities any automated dispatching system should deliver
Using SYSTEMA's Event-Driven Dispatching solution as an example, we explore real-world dispatching topics:



Why an event-driven approach is key to delivering real-time dispatching to manufacturing environments
How real-time dispatch lists are created, updated, and presented to users
Common manufacturing events that should be considered to calculate and trigger updates to impacted dispatch lists
System architecture and administration of an event-driven dispatching solution
And much more
13 Pages, Reading time approx. 25 minutes.