In today's digital world, the manufacturing IT applications that enable businesses to run smoothly should ensure:
High availability of systems for business continuity

Effective utilization of computing power

User-friendly GUI

Reduced cost of ownership
The above challenges can be addressed with the help of IT solutions offered by SAP HANA. SAP HANA solutions are widely used by various industries to run their IT applications, especially industries that rely on enterprise resource planning (ERP) and manufacturing related solutions. The latest version of SAP HANA Cockpit is an ideal tool that manages the SAP HANA database to ensure effective utilization of HANA's "in-memory" capabilities.
What is the SAP HANA Cockpit?
SAP HANA Cockpit, aptly named after the control-center of an aircraft, serves as a single point of access for managing SAP HANA systems. The cockpit provides tools for database administration and monitoring, user management, system starts and stops, and system configuration.
SAP HANA Cockpit with SAP Fiori-based Launchpad displays real-time information through its user-friendly GUI in the form of tiles arranged in groups. Using these tiles, it is possible to access app-specific data of multiple applications for immediate review with a single login credential. SAP HANA is best run using SAP HANA Cockpit, which helps business sectors like manufacturing, energy, utilities etc., view and manage real-time data through its web-based GUI.
Key Benefits of SAP HANA Cockpit
Benefits

Reduced effort to manage multiple landscapes


Confidence that critical business systems will be available
SAP HANA Cockpit: Ensuring Systems' Availability & Optimizing Computing Power
The SAP HANA Cockpit is designed to prevent system downtime, manage additional infrastructure with lesser effort, and reduce total cost of ownership. In its current 2.0 version, the SAP HANA Cockpit has included the option of dedicated hardware deployment along with a shared hardware deployment setup. This option is mainly used in the production environment to ensure that the Cockpit is always available and is unaffected by high resource utilization of the SAP HANA database.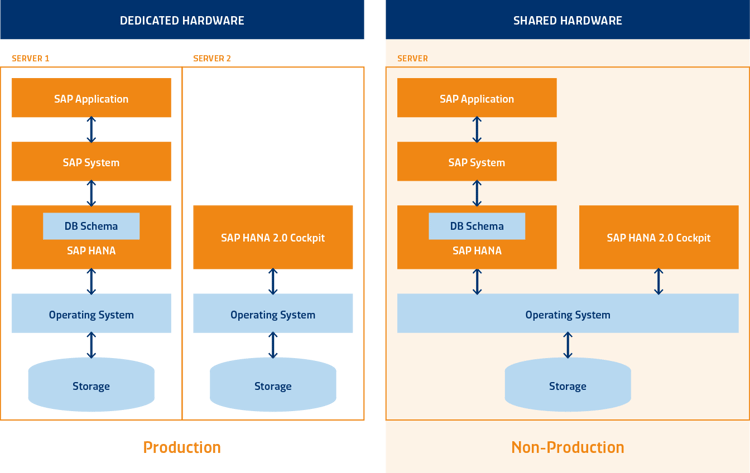 SAP HANA Cockpit

Features
Administration and Monitoring

SAP HANA Database Explorer

Performance Monitoring and Analysis

User Permissions Management and Security Administration

High Availability and Scalability

Backup and Recovery

Start & Stop Critical Services

Host Fail-over

Offline administration of the HANA database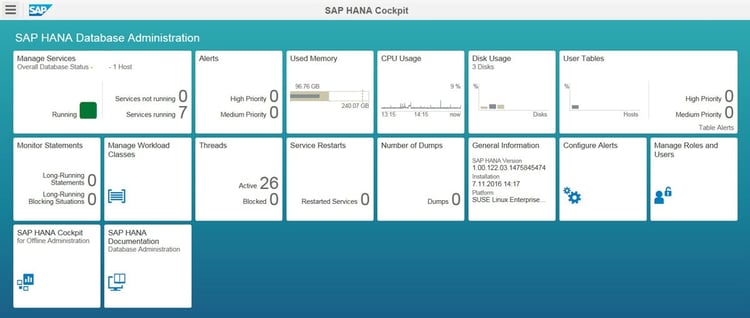 SAP HANA Cockpit, a web-based HTML5 user-interface, runs on a component called SAP HANA extended application services – XS advanced. This component houses all SAP Fiori applications which also includes the cockpit. With the advent of the SAP HANA 2.0 database, container databases also called tenant databases have become mandatory. This led to the use of multi-tenant databases within one HANA database along with shared installation of database system software and shared computing resources. However, each tenant database is self-contained and fully isolated.
With the HANA cockpit, it is possible to monitor and manage each tenant database by registering it as a resource and mapping it to the desired resource group. The Cockpit dashboard gives real-time information on overall system status corresponding to different resource groups and detailed metrics of each resource, in a single screen in the form of tiles.
In 2016, SAP announced that HANA Cockpit will be the only administration tool that will be enhanced with each new release of the SAP HANA database. Since then, the HANA Cockpit has benefitted from improved capabilities and has surpassed the functionalities of other administration tools like HANA Studio provided by SAP HANA. The current version of the HANA Cockpit is 2.0 SPS 05, released in June 2020.
SAP HANA Cockpit & Industry 4.0
Industry 4.0 – the automation of manufacturing through the use of smart technology, artificial intelligence, and the Industrial Internet of Things – calls for the integration and monitoring of complex infrastructures. The SAP HANA Cockpit achieves this as it provides optimal coordination of planning and execution processes, covering all aspects of the manufacturing cycle from planning, to shop floor, and beyond.
With the help of the SAP HANA Cockpit, system performance is visible in real-time. This visibility supports proactive and data-driven decision making in order to avoid major downtimes for critical business systems because, if one system fails, there are cascading consequences to other systems.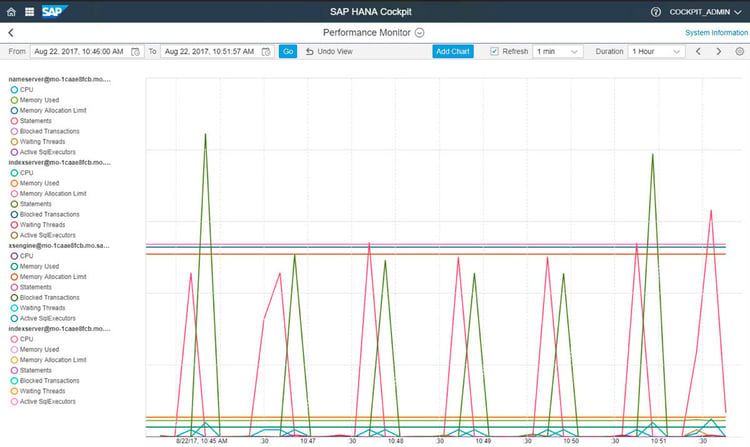 Why partner with SYSTEMA?
SYSTEMA was one of the first companies to become a preferred SAP Manufacturing Service Partner when SAP began offering shop floor solutions and MES initiatives more than a decade ago. For 30 years, SYSTEMA has been providing manufacturers with a full range of IT-consulting and best practices to help maximize performance within their production environments.
SAP Manufacturing Consulting and Services
Analysis and optimization of manufacturing processes
Architecture and process consulting for manufacturing execution solutions
Design and implementation of automation solutions
Integration of standard SAP MES solutions
Customized extensions for SAP MES solutions
Equipment integration services (more than 10,000 equipment integrations worldwide)
Execution of international projects from small to large scale
Support for SAP MES implementations with 24/7 support operating 365 days a year