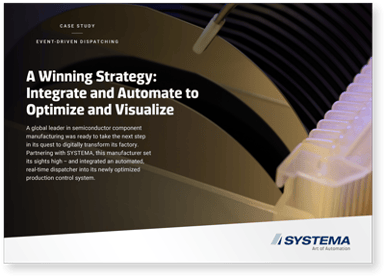 Taking steps toward digital transformation within a live production environment can be intimidating. Fortunately, many before you have successfully implemented digital transformation initiatives.
In this case study, you will learn how a global leader in semiconductor component manufacturing integrated an automated, real-time, event-driven dispatching system into their IT landscape.
While this case study deals with semiconductor manufacturing, event-driven dispatching has a proven track record across many industries. Learn how you may be able to benefit from such a tool within your manufacturing environment.
What you will learn:
How event-driven dispatching enables manufacturers to meet increased demand and production complexity
How a digital transformation initiative can be applied within a well-established, live production environment
Use cases for an automated dispatching system based on real-world manufacturing scenarios
Before & after evaluation of dispatching success metrics
8 pages, reading time ~10 minutes