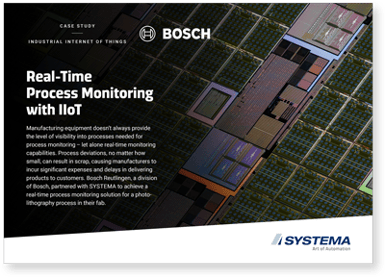 Are you ready to transform your production efficiency? Discover how to harness the full potential of the Industrial Internet of Things (IIoT) with our exclusive case study on real-time process monitoring at Bosch Reutlingen, a division of the Bosch Group that develops and produces semiconductors, micro-hybrids, micro-mechanical sensors, and control units.
What you will learn:
In this case study, you'll see how SYSTEMA helped Bosch:
Enable seamless integration of data across multiple systems, devices, and sensors, empowering them to make smarter, data-driven decisions.
Achieve increased productivity, reduced downtime, and improved product quality.
Implement an IIoT-enabled monitoring system that streamlines operations, reduces costs, and accelerates time-to-market.
Overcome key challenges and leverage best practices for adopting IIoT in semiconductor manufacturing.
7 pages, reading time ~9 minutes