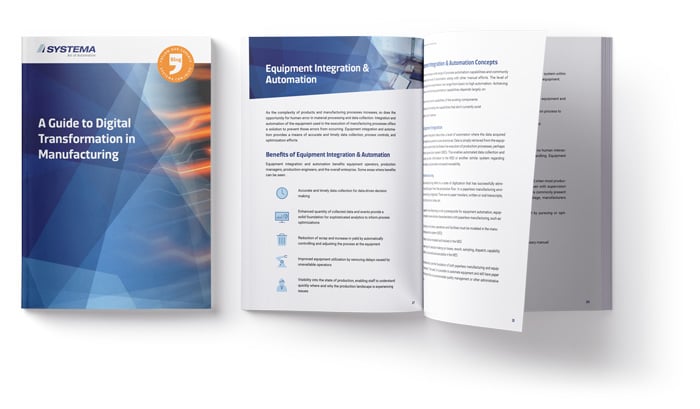 Running efficient production lines is challenging under the best of circumstances. Throw in a bottleneck discovered too late resulting in delayed product shipment, equipment sitting idle due to operator absence, or the inability to locate material in the production environment and challenge quickly becomes frustration and worse – it hurts productivity and revenue.
Facing these challenges and frustrations can be daunting. Questions abound, like: Where is the best place to start? Do I need to hire more people? Do I need to purchase new equipment? How have others within this industry addressed these issues?
We have found this to be true across all industries:
Ongoing achievement of higher automation provides a sustainable path forward for continuous production optimization and eliminates pitfalls associated with manual activities.
In this guide we share key insights regarding paths, requirements, and implementation strategies for short and long-term manufacturing automation solutions spanning a wide range of industries including semiconductor, food and beverage, aerospace and defense, automotive, electronics, metal and steel, and medical devices.
What you'll learn:
SYSTEMA's "Guide to Digital Transformation in Manufacturing" provides resources that will "meet you where you are today" in terms of your current level of manufacturing automation and offers guidance to increase your awareness of potential solutions and supports your efforts toward higher automation, including guidance on the following:
Identifying business objectives
Aligning stakeholders
Project planning and organization of project teams
Project execution
Determining the core processes and functionality required to support your digital
transformation strategy
Identifying the system components which align with, and are required by, your digital
transformation strategy
And much more!
63 pages, reading time ~ 120 minutes