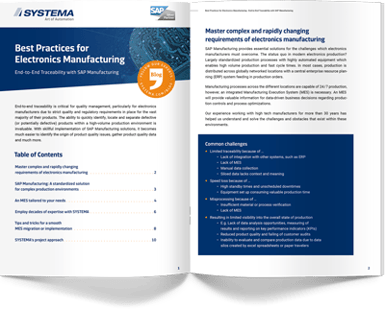 Electronics manufacturers are facing increasingly strict quality and regulatory requirements. End-to-end traceability, process controls and accurate data regarding production processes are now critical for meeting quality and regulatory requirements – not to mention the efficiencies they provide.
Skillfully implemented SAP Manufacturing solutions are designed to meet the unique needs of electronics manufacturers. Further, SAP Manufacturing solutions offer your manufacturing organization a scalable and sustainable solution to accommodate future growth.
What you'll learn:
In "SAP Manufacturing Solutions: Best Practices for Electronics Manufacturing", we share our best practices for leveraging the broad capabilities SAP Manufacturing solutions provide to the electronics manufacturing industry, including:
Equipment and systems integration
Panel handling
Defect detection
Process and quality controls
OEE tools
Recipe Management
Real-time production insights
And more!
7 pages, reading time ~ 15 minutes