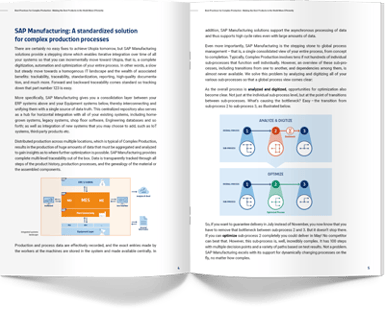 Complex Production provides some of the most sophisticated products of the new industrial age. From airlines to aerospace
to defense, a wide variety of industries rely on Complex Production to deliver some of the most unique products on the planet.
The gold standard in Complex Production involves manufacturing the highest quality products with zero defects and zero scrap. A daunting task, but with the skillful implementation of SAP Manufacturing solutions the complexity becomes manageable. SAP Manufacturing solutions enable Complex Production digitization, standardization, automation and optimization.
What you'll learn:
In "SAP Manufacturing Solutions: Best Practices for Complex Production", we share our best practices for leveraging the broad capabilities SAP Manufacturing solutions provide, including:
Achieving end-to-end traceability
Improving OEE
Reducing misprocessing
Gaining transparency across the entire production lifecycle
Detection of quality issues
Process and quality control with SPC
Support for both synchronous and asynchronous assembly with high data volumes
Support for engineering change management
And more!
12 pages, reading time ~ 20 minutes