Connecting your production equipment to your enterprise systems allows for real-time information sharing and access to data required for advanced analytics to support timely decision making. Leveraging your data helps with performance monitoring, detection of production related issues and improves traceability while making your manufacturing operations more efficient and scalable. SAP DM allows manufacturers to take advantage of their network to achieve greater flexibility, visibility, and to realize new business models.
At SYSTEMA, we understand the risks and challenges that come along with implementing new technology on the shop floor. We have been providing training, consulting and successful implementation of SAP Manufacturing solutions for manufacturers since 2009. We continue to do so by implementing solutions and customizing functionality with end-users in mind and by providing the support, training and services necessary to empower users to independently leverage the capabilities of their systems.
What is SAP DM?
SAP Digital Manufacturing (SAP DM) is a cloud-based manufacturing execution system (MES) designed to provide the link between production and business in supply chain management. SAP DM provides global visibility across all plants by connecting top floor business systems to shop floor equipment. This translates to global visibility and monitoring of production orchestration and execution operations across all plants, all the way down to an individual work center.
SAP DM allows manufacturers to execute manufacturing processes, analyze manufacturing and business data, and integrate systems with a cost-effective, high-quality and resource-efficient method based on Industry 4.0.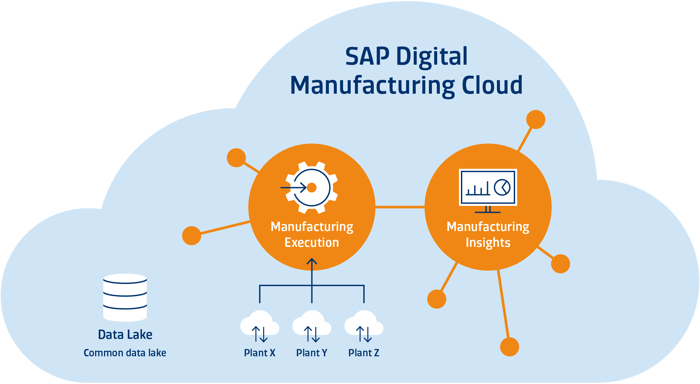 Key Benefits of SAP DM
SAP Digital Manufacturing for execution (DMe)
Orchestrate, control and monitor the shop floor with the central MES solution. Intuitive user interfaces and modern, process-oriented features such as the resource and order dispatch or the graphic design of interlinked production processes are some of its core characteristics.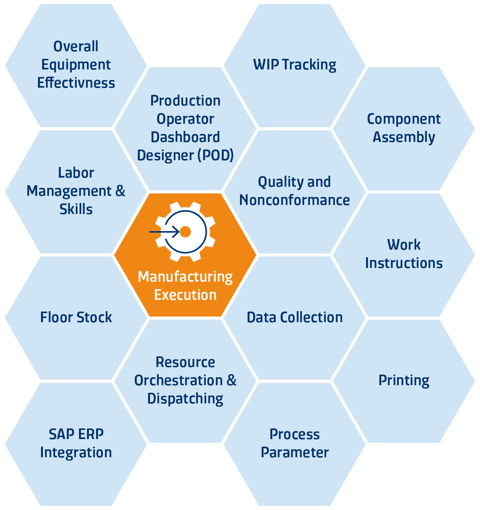 SAP Digital Manufacturing for insights (DMi)
SAP DMi, formerly known as SAP Digital Manufacturing Cloud Insights (DMCi), sharpens production insights from enterprise to plant level to foster continuous improvement in industrial environments using sense and respond software from SAP. You can gain a common understanding of the priority, cost, and impact of driving new and challenging improvements in standard processes and workflows. You can also track the resources, people and machines, performing the work to assess progress, and manage the variations that arise from changes to the process.
SAP DMi delivers industry standard Key Performance Indicators (KPI) for you to standardize KPI calculation across your manufacturing plants.
Use out-of-the box standard pre-delivered manufacturing KPIs fed with ERP, ME and DM execution data
Gain real-time visibility and monitor the performance of the production process from a regional level through geographic mapping
Compare the performance between regions, between plants within and across regions, between work centers and resources
Get quick visibility of personalized KPI's in "Global Insight" to identify non-performing regions, countries and plants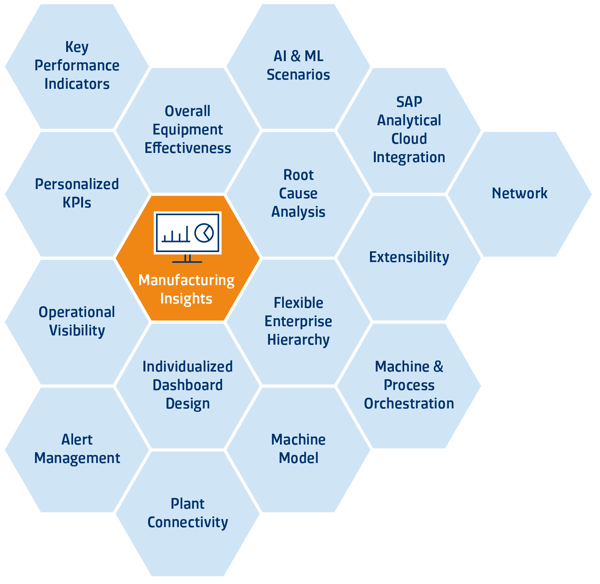 Digital Manufacturing Insights – Network
Provides a cloud-based collaborative platform that connects customers with (additive) manufacturing service providers, e.g. suppliers of 3D printing services, material providers, original equipment manufacturers (OEM), and technical certification companies.

Benefits

Gain insights needed to enhance manufacturing performance

Timely, accurate, and accessible reporting

Increase visibility of manufacturing processes

Customizable reporting capabilities

Maximize utilization of business assets
Why partner with SYSTEMA?
SYSTEMA was one of the first companies to become a preferred SAP Manufacturing Service Partner when SAP began offering shop floor solutions and MES initiatives more than a decade ago. For 30 years, SYSTEMA has been providing manufacturers with a full range of IT-consulting and best practices to help maximize performance within their production environments.
SAP Manufacturing Consulting and Services
Analysis and optimization of manufacturing processes
Architecture and process consulting for manufacturing execution solutions
Design and implementation of automation solutions
Integration of standard SAP MES solutions
Customized extensions for SAP MES solutions
Equipment integration services (more than 10,000 equipment integrations worldwide)
Execution of international projects from small to large scale
Support for SAP MES implementations with 24/7 support operating 365 days a year
SAP Manufacturing Consulting and Services