Manufacturing execution systems (MES), such as SAP ME, serve a critical role in executing production orders by managing processes, ordered steps, and process flows while simultaneously handling data collection. Implementation of an MES involves a high level of organizational change management, a thorough understanding of all existing production processes, and clearly defined objectives for business use cases across business units and production sites.
We understand the risk and complexities associated with the implementation of new technologies within a live production environment. SYSTEMA has been providing training, consulting and implementation of SAP Manufacturing solutions for manufacturers since 2009. A common theme in all of our digital transformation projects is to align all key representatives who will be impacted by systems, technology, and process changes by enlisting their feedback, addressing questions and concerns, and developing solutions with the end-users in mind. Further, we provide the support and services necessary to guide the change process from start to finish and empower users to effectively leverage the system without ongoing external support by providing the necessary training.
What is SAP ME?
SAP Manufacturing Execution (SAP ME) is a comprehensive manufacturing execution system (MES) solution for discrete manufacturing processes. The highly configurable and customizable nature of SAP ME makes it adaptable and applicable to numerous industries and varying process needs. In other words, SAP ME enables MES functionality to be tailored specifically for the management and control of your production environment.
SAP ME solutions provide operational visibility from shop floor to top floor by facilitating digital management, monitoring, control and automation of manufacturing and production operations. Real time data can be used to increase reliability and product traceability throughout production processes allowing for efficient and informed decision making.
SAP ME is a scalable solution allowing manufacturers to define, track, and trace manufacturing and operations for multiple sites on a site-to-site and global scale.
Key Benefits of SAP ME
Benefits


Traceability (batch and serial number traceability)

Real-time production insights


Throughput time reduction


Higher machine utilization
Key Features of SAP ME
Shop Floor Control Unit: Within SAP ME, the lowest level of traceability is the Shop Floor Control ID (SFC). SFC is a unique identifier that represents a specific instance of a particular material being built during the manufacturing process. This ID can be associated to a single batch or a lot-size-one product based on the desired production model. Data collected throughout production process is associated with the SFC in order to provide a comprehensive production record including the product history for each individual SFC.
Routing: SAP ME routing allows for the design and setup of process routing. SAP ME routing accommodates varying degrees of detail and flexibility to account for just about any production scenario. The graphical routing engine is versatile editor used to configure production routes ranging from easy, sequential flows to highly complex routes with loops, embedded rework, conditional and non-conformance-based routing automated actions.
Activities: Activities are a key concept for configuration of SAP ME allowing for efficient adaptation of processes and systems to meet production demands. Actions such as start/complete, data collection, event logging, and verifications can be assigned as an activity at various points along production routes and business flows. These assignments ensure the process is interlocked appropriately and establish when and where specific actions must occur. The combination of system configuration, extension of standard activities, and the possibility to trigger actions via external web services provide the flexibility needed to tailor the system to individual process and business needs.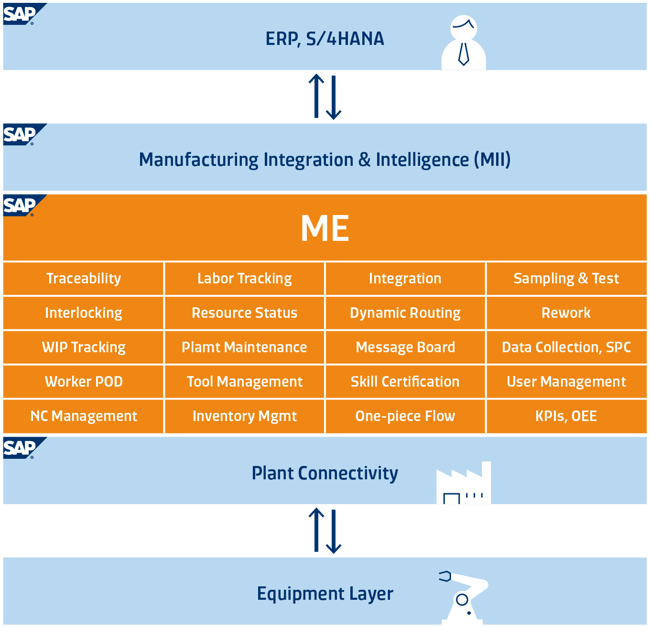 Why partner with SYSTEMA?
SYSTEMA was one of the first companies to become a preferred SAP Manufacturing Service Partner when SAP began offering shop floor solutions and MES initiatives more than a decade ago. For 30 years, SYSTEMA has been providing manufacturers with a full range of IT-consulting and best practices to help maximize performance within their production environments.
SAP Manufacturing Consulting and Services
Analysis and optimization of manufacturing processes
Architecture and process consulting for manufacturing execution solutions
Design and implementation of automation solutions
Integration of standard SAP MES solutions
Customized extensions for SAP MES solutions
Equipment integration services (more than 10,000 equipment integrations worldwide)
Execution of international projects from small to large scale
Support for SAP MES implementations with 24/7 support operating 365 days a year