Integration and connectivity are key to successful Industry 4.0 initiatives. SAP Manufacturing Integration and Intelligence (SAP MII) is the perfect solution to integrate various apps, equipment and sensors and connect that information to shop floor personnel. SAP MII natively integrates the shop floor with your SAP ERP business systems in real-time. Besides integration capabilities, SAP MII provides services to structure, distribute and provide context to manufacturing data through dashboarding and analytics capabilities. Dashboarding and analytics enable manufacturing personnel to visualize and leverage accurate and timely data for critical decision-making.
At SYSTEMA, we understand the challenges that come along with implementing new technologies on the shop floor. We have been providing training, consulting and successful implementations of SAP Manufacturing solutions for manufacturers since 2009. A common theme in all of our digital transformation projects is to align all key representatives who will be impacted by systems, technology, and process changes by enlisting their feedback, addressing questions and concerns, and developing solutions with the end-users in mind. Further, we provide the support and services necessary to guide the change process from start to finish and empower users to effectively leverage the system without ongoing external support by providing the necessary training.
What is SAP MII?
SAP Manufacturing Integration and Intelligence (SAP MII) is the proven solution for the process industry and is a comprehensive platform for Manufacturing Execution (MES) and integration solutions. SAP MII allows for real-time production monitoring and provides extensive data analysis tools.
Using SAP MII, data from a wide range of systems can be integrated and combined with data from other business systems. This integration provides deep insights into the measures from SAP ERP down to the shop floor, and across shop floor operations and applications. These insights aid in decision making regarding equipment usage and shifting production priorities and also ensures necessary actions can be executed automatically or manually.
SAP MII solutions become the central component and orchestrator for data-driven, evidence-based decision making. MII extracts and processes data from all critical business systems and displays integrated data to key stakeholders and decision makers. For instance, SAP MII can be used to view, collect, measure, and compare the performance of plants and assets with different automation system infrastructures. To enable more valuable information, SAP Plant Connectivity (SAP PCo) can be used to connect shop floor equipment for the purposes of data collection and evaluation.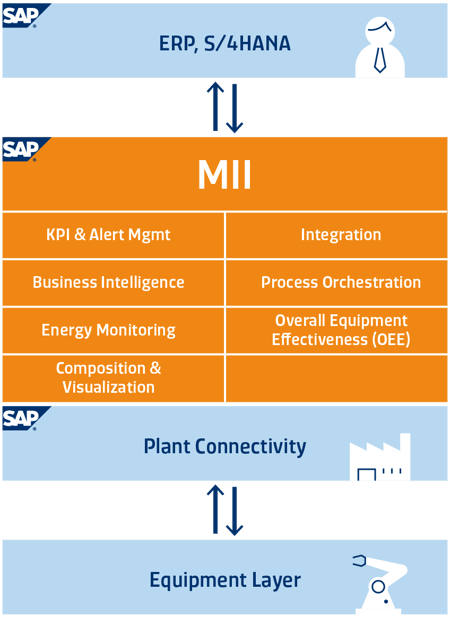 Key Benefits of SAP MII
Benefits

Universal Platform: Extensible manufacturing platform allows rapid adaption to any manufacturing process. Applicable to all manufacturing industries and utilities

Integrated Systems: Provide interoperability between shop floor solutions and enterprise ERP

Manufacturing Intelligence: Visualize data using plant information applicable to each level of the organization with standard and custom, user-defined dashboards

Process Orchestration: Enable customer-specific processes for planning, execution, maintenance and quality

Plant Performance Management: Out-of-the-box SAP Overall Equipment Effectiveness Management (SAP OEE Management) allows for the measurement and analysis of plant performance historically and in real-time. Additional capabilities include options to build and visualize customizable KPIs.
Why partner with SYSTEMA?
SYSTEMA was one of the first companies to become a preferred SAP Manufacturing Service Partner when SAP began offering shop floor solutions and MES initiatives more than a decade ago. For 30 years, SYSTEMA has been providing manufacturers with a full range of IT-consulting and best practices to help maximize performance within their production environments.
SAP Manufacturing Consulting and Services
Analysis and optimization of manufacturing processes
Architecture and process consulting for manufacturing execution solutions
Design and implementation of automation solutions
Integration of standard SAP MES solutions
Customized extensions for SAP MES solutions
Equipment integration services (more than 10,000 equipment integrations worldwide)
Execution of international projects from small to large scale
Support for SAP MES implementations with 24/7 support operating 365 days a year
SAP Manufacturing Consulting and Services