With increasing adoption of standard manufacturing execution systems (MES) over the past decade, specifically SAP's Manufacturing suite, in-house IT specialists focus on efforts largely centered around simply keeping operations running and often have little time to explore and adequately evaluate possibilities to fully leverage and extend the capabilities of these systems in order to further Industry 4.0 initiatives.
As a result, it is common to see the following opportunities on the shop floor:
ensure that the most current version of SAP Manufacturing software is in use in order to prevent the risk and effort associated with managing legacy software
ensure new processes and changes to existing processes are supported by and modeled within the manufacturing execution software
ensure that all applications can be supported at all times by transforming localized IT knowledge, or "tribal knowledge", related to systems and shopfloor processes into a shared knowledge-base which is documented and modeled within the IT system
investment in increasing levels of manufacturing automation
Application management is critical to a manufacturing organization's ability to pursue digital transformation or Industry 4.0 initiatives. A comprehensive approach to application maintenance support follows the following approach:
Maintain: ensure SAP Manufacturing suite is up-to-date and properly integrated across the manufacturing IT landscape
Extend: explore and adequately evaluate possibilities to leverage the capabilities of IT systems in order to further Industry 4.0 initiatives, then extend system capabilities accordingly
Transform: advance towards increasing levels of manufacturing automation capability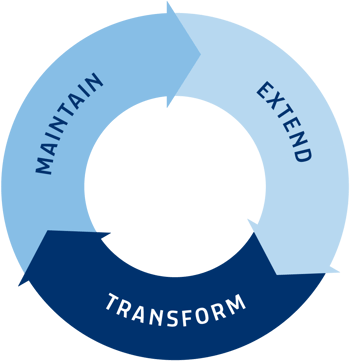 SYSTEMA has a deep understanding of application maintenance and digital transformation strategies as a result of 30 years of experience providing software, support and consulting services for manufacturing automation. Additionally, we have been providing training, consulting and implementing SAP Manufacturing solutions since 2009. A common theme in all of our digital transformation projects is to align all key representatives who will be impacted by systems, technology, and process changes by enlisting their feedback, addressing questions and concerns, and developing solutions with the end-users in mind. Further, we provide the support and services necessary to guide the change process from start to finish.
What is SYSTEMA's SAP Manufacturing Application Management Service?
SYSTEMA's SAP Manufacturing Application Management Service (AMS) provides 24/7 support for any existing SAP Manufacturing IT landscape and expert recommendations designed to maximize your production floor's capability, quality and operational efficiency.
SYSTEMA's SAP Manufacturing AMS offers a comprehensive approach to application management and support from maintenance through to insights regarding opportunities to transform and further optimize IT assets. By understanding your manufacturing processes and IT infrastructure, we are able to go beyond simply providing technical support. Our experts have been providing consulting, implementation, training and supporting for SAP Manufacturing solutions since 2009 and are uniquely positioned to apply this experience for your benefit.
SAP Manufacturing Application Management Services may include:
Digital Manufacturing (DM Insight, DM Execution, SAC, etc.), formerly known as DMC
Proactive release support for DM
SAP Basis Administration Support for the components of SAP Manufacturing solutions by implementing best practices for monitoring, upgrading the patch and ensuring high availability of the IT landscape
Sharing of manufacturing best practices to support continuous improvements on the shopfloor
Training sessions for end-users designed to reduce support tickets
Proofs-of-Concept (PoCs)
By partnering with, rather than replacing, in-house IT staff, SYSTEMA can ensure localized IT knowledge becomes a well-documented shared knowledge-base, accessible around-the-clock, and is fully leveraged to ensure your IT systems and manufacturing processes provide your company a tangible competitive advantage.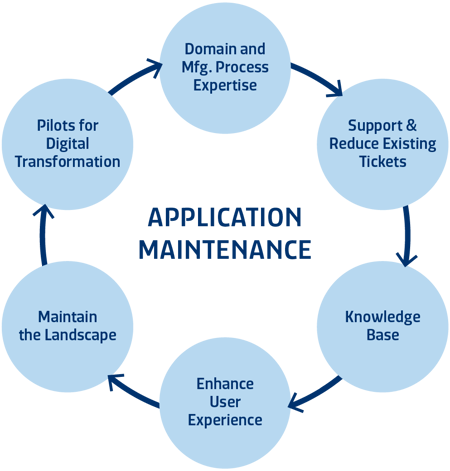 SYSTEMA's SAP Manufacturing Application Management Solutions
SYSTEMA's primary objective is to reduce application maintenance expenses for manufacturers while simultaneously supporting their transformation to smart manufacturing. We offer the following support services:
SAP Manufacturing Application Management | Maintain
Support for SAP Digital Manufacturing (DM Insight, DM Execution, SAC, etc.)
Support for SAP Admin based on the contract
SAP Manufacturing Application Management | Maintain & Transform
Support for existing Manufacturing IT applications
Support for SAP Admin based on the contract
Maintenance and support enhancements/extensions
PoCs and pilot projects related to digital transformation
Benefits

Support and fully leverage your existing IT landscape

Optimize effort and maximize budget

Gain insights on next steps in digital transformation strategy

Business optimization and innovation


24/7 expert support available in German, English, Spanish, Portuguese, Mandarin, Hebrew and Hindi

Reduce risk related to "tribal knowledge" and unavailability of in-house experts

Near shore support enables support in local languages
Maintain | Key Features
"Follow-the-Sun" Support: leverages SYSTEMA's global presence and multilingual team to provide 24/7 support in end-user's native language
SAP Administration: provides monitoring and maintenance for SAP Manufacturing landscape, implementation of version upgrades and system updates per SAP standards
Solution Documentation: focuses on documenting ticket resolution outcomes to allow in-house IT staff to focus on support and optimization efforts
Business Value Creation: emphasizes prevention of recurring tickets by resolving service tickets, root cause analysis, providing end-user education, and sharing best practices for minor process optimizations based on SYSTEMA's domain, manufacturing, and business process expertise
Customizable Service Agreements: recognizes the unique needs of your business by providing flexible Service Level Agreement models and pricing
Maintain & Transform | Key Features
Includes Key Features of

"

Maintain

"

(shown above)
User-Interface Simplification: focused on end-user experience
Proofs of Concept (POCs): spotlights areas where digital transformation is recommended and focuses on development of a transformation strategy, beginning with a proof of concept
Solution Architecture Implementation Support: centers around supporting digital transformation efforts by considering the "as-is" or current situation as well as the "to-be" or future state of the IT architecture
Workshops Solutions Demos: based on needs and recommendations for your production environment/shop floor
Why partner with SYSTEMA?
SYSTEMA was one of the first companies to become a preferred SAP Manufacturing Service Partner when SAP began offering shop floor solutions and MES initiatives more than a decade ago. For 30 years, SYSTEMA has been providing manufacturers with a full range of IT-consulting and best practices to help maximize performance within their production environments.
SAP Manufacturing Consulting and Services
Analysis and optimization of manufacturing processes
Architecture and process consulting for manufacturing execution solutions
Design and implementation of automation solutions
Integration of standard SAP MES solutions
Customized extensions for SAP MES solutions
Equipment integration services (more than 10,000 equipment integrations worldwide)
Execution of international projects from small to large scale
Support for SAP MES implementations with 24/7 support operating 365 days a year