SYSTEMA Industrial Internet of Things (IIoT) provides a coherent, scalable, and robust toolbox to build bridges from manufacturing equipment to a wide range of Industry 4.0 applications. It is designed from the ground up to cope with requirements and challenges in modern discrete manufacturing.
The SYSTEMA IIoT stack is built on top of sensors to acquire data and actuators to provide feedback and control. With sensors and actuators in place, SYSTEMA's IoT Gateway handles signal acquisition, compression, edge analytics, and routing of sensor data to downstream applications, which may be housed on-premise or in the cloud.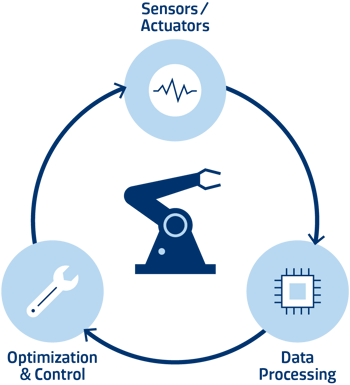 SYSTEMA's IIoT applications are built on top of a well-established open-source platform to enable extensibility and stability. Our solutions are architected with scale in mind to support deployments from individual tools to entire production lines. By combining equipment instrumentation sensors with machine learning, we provide an advanced toolbox to take shop floor intelligence and data-driven decision-making to new levels.
IIoT Application Modules
Based on our rich and long-standing experience with equipment integration and shopfloor automation, SYSTEMA IIoT enables a broad range of capabilities.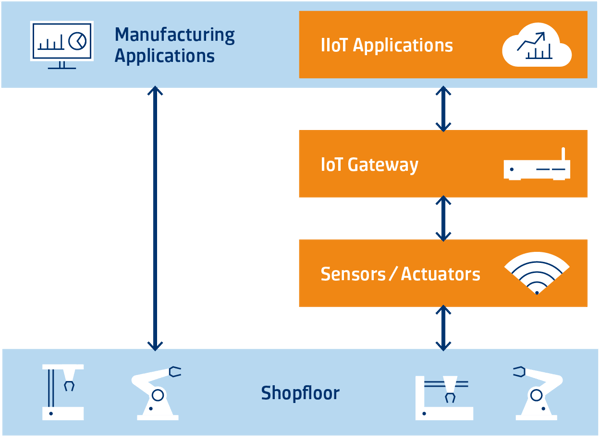 Condition Monitoring
A core element of any IIoT solution is condition monitoring which refers to the process of monitoring equipment parameters (vibration, temperature, power consumption, etc.) that are fed into a model that determines the equipment's condition.
Our Condition Monitoring module is an integrated, well-established solution providing suitable digital asset twin models, visualization, and long-term archival storage. It enables IIoT solutions which help to improve tool uptime and shop floor efficiency.
Equipment RetroFit
Digitization is a process that often centers around legacy equipment lacking suitable interfaces for higher automation. Bridging these gaps is typically the first step towards smart manufacturing. With our RetroFit module, users can close such gaps in shop floor digitization. RetroFit complements insufficient or incomplete equipment interfaces using a data-driven retrofit-enhanced tool state model allowing for better equipment and process supervision. In particular, we provide deep integration with our Equipment Integration Suite to enable high automation on the shopfloor.
RetroFit is built around the notion that sensor signals, particularly in a manufacturing environment, are complex in nature and often lack the ability to provide insights directly. Thus, we incorporate engineering-driven rules, machine learning, sensor fusion, feature engineering as well as advanced statistical modeling to complement existing equipment interfaces with new state events.
Smart Failure Detection
To prevent unexpected downtimes, tool damage, and scrap, it is crucial to provide equipment engineers the ability to quickly spot abnormal equipment conditions. This capability is greatly facilitated and enabled by IIoT.
SYSTEMA's Smart Failure Detection module integrates data from IIoT along with existing context information to build suitable tool state models using machine learning and expert knowledge. These models are operationalized to account for dynamic tool and factory changes and provide alerts whenever tools begin to exhibit abnormal state behavior.
For operational control, users can configure failure detection sensitivity via a web-based control interface that also allows visualizing wear progression of IIot enabled equipment.
Predictive Maintenance
A primary goal of SYSTEMA is to enable customers to use data and algorithms to optimize high-value machinery, for instance, by avoiding downtime or by optimizing periodic maintenance operations. Predictive maintenance allows for the achievement of this ambitious goal by providing smart scheduling of maintenance actions just before a wear limit is reached. Our Predictive Maintenance module allows anticipating tool failures before production comes to halt.
Our approach to predictive maintenance is organized around a consulting process involving close collaboration with our partners and customers. After initial instrumentation with suitable sensors and instruments of the tool in question, we narrow down suitable condition indicators. Next, we capture data to build trend models and to link these with failure events. Finally, we operationalize thoroughly to cope with changing environments, products, or tool contexts.
Product Quality Monitoring
With SYSTEMA IIoT, partners and customers can track product quality and possible deviations in real-time at scale. For example, product parameters such as product shape, visual appearance, or physical properties may be indicative of product quality. These data can be captured with the Product Quality Monitoring module and are reshaped to enrich other production data to enable root cause analytics and optimize production. We also support integration with traceability systems to correlate material with tool failures, as well as integration with compliance and quality monitoring solutions.
IIoT Services
Identification and bridging of gaps in digitization
Integration of equipment with limited or missing digital interfaces (such as SECS/GEM)
Consulting for tool instrumentation and hardware selection (sensors, actuators, other peripherals)
Support for a wide range of message brokers and protocols including MQTT, HTTP, and other IIoT protocols via LAN or wireless technologies like WLAN and 5G
Support for machine-to-machine communication protocols for industrial automation such as OPC-UA
Engineering expertise to deploy, manage & maintain IIoT solutions
Integration services into other (existing) manufacturing applications, for example, MES (manufacturing execution system), Maintenance Management, Quality Management, etc.
IIoT Module Capabilities
Real-time quality and deviation tracking
Smart scheduling of equipment maintenance
Close gaps in shop floor integration and automation
Advanced equipment state detection built on state-of-the-art machine learning techniques
Deep integration with shopfloor IT (e.g. Equipment Integration & Automation, MES, dispatching, performance analysis, quality management, asset management, ERP, etc.) to enable a higher degree of automation
Real-time dashboards allow inspecting current tool state and tool history
Central control interface for device and sensor states
IIoT Solution Benefits
Benefits

Forward-thinking solutions built for future scalability

Improve tool uptime and shopfloor efficiency

Quickly identify abnormal equipment conditions

High availability to support mission-critical systems

Standardized industry-ready deployment platform for device management
Why Partner with SYSTEMA for IIoT Solutions?
SYSTEMA's experts have empowered manufacturers with tools for visibility, optimization, and efficiency for 30 years. We are keenly aware that manufacturing IIoT projects often fail due to the dynamics and the complexity of the environment. Our IIoT projects succeed as a result of 30 years of expertise in factory control and automation which is built into the design and implementation of the IIoT solutions we deliver.
SYSTEMA IIoT enables manufacturers to quickly instrument tools across a wide range of sensor modalities such as vibration, temperature, pressure, power consumption, acceleration, noise level, and many more. By providing a toolbox to enable a proof of concept – often within days – we provide a fast-track to IIoT solutions as a basis for condition monitoring, predictive maintenance, failure detection, and more.
Our IIoT solutions are necessarily customized, as it is unlikely to find an off-the-shelf solution that fits the exact specifications for your use case. SYSTEMA excels by providing a tools-centric, data-driven, flexible IIoT stack to model and realize even advanced use cases. Complemented with machine learning and cutting-edge signal processing techniques, we can model, track and monitor equipment in the most complex manufacturing settings.
SYSTEMA IIoT is designed for scalability and deep integration with shopfloor IT such as MES, ERP, or field data collection. Thus, it becomes possible to proactively initiate corrective actions such as maintenance, production stop, or tool recalibration leading to a reduction of scrap and downtime as well as higher equipment utilization and throughput.
To bring IIoT to the shopfloor, we provide an iterative consulting process that involves tool instrumentation, data cleaning and inspection, modeling, and operationalization. Once running in production, condition models are continuously maintained to account for data drifts and product changes.
Start your journey towards data-driven decision-making today.