Industry 4.0 – the automation of manufacturing through the use of smart technologies like artificial intelligence and the Industrial Internet of Things (IIoT) – involves:
digitization of formerly analog processes,
automation by transforming human activities and knowledge into system performed actions and decisions,
and continuous optimization.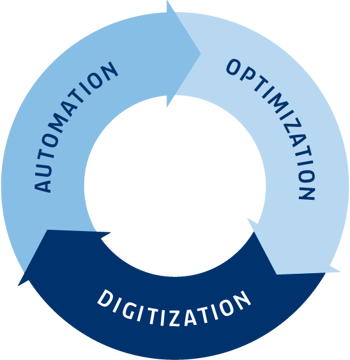 For this reason, individual digital transformation projects should be considered cyclical efforts which exist along a continuum of automation. In other words, each automation initiative and its component parts should be treated as an ongoing and continuous cycle of digitization, automation, and optimization in an effort to advance towards increasing levels of automation capability. The future of automation is unknowable, however, it is safe to bet that there is no foreseeable limit to what is possible as technology, computing power, and knowledge progress.