Ulf Martin, on October 06, 2020, 02:21 PM
SAP PM & SAP ME: Effective coordination of maintenance and production activities
Without available equipment, there is no production or production is severely handicapped. Therefore, effective asset management is a determining factor when it comes to manufacturing production efficiency and performance. Preventing equipment failures begins with regular equipment maintenance and servicing. The next step is integrating equipment performance monitoring data with production systems. Doing so will ensure equipment maintenance activities account for and are based on real-time processes and events within production environment. This step is critical to prevent equipment failure and reduce production downtime.
Optimize OEE (Overall Equipment Effectiveness)
Overall equipment effectiveness (OEE) is a measure of the efficiency of manufacturing processes by evaluating equipment availability, production performance, and product quality factors. These factors are directly related to equipment performance and availability.
Commonly, production and maintenance IT systems are independent from one another. Even in those cases where production steps are mapped in the ERP system, the corresponding equipment performance data is usually not integrated. The disconnection that exists between production and maintenance IT systems results in complexities and inefficiencies when it comes to coordinating production and maintenance activities. In order to minimize these complexities and optimize OEE, SAP offers three standard integration scenarios based on SAP ERP/S/4HANA PM and SAP ME:
Unscheduled/unplanned equipment downtime notifications
By making data available regarding unscheduled/unplanned equipment downtime, immediate notification can be sent to the maintenance department to ensure a fast and targeted response.
Coordinate planned preventive maintenance with production activities
By transferring data regarding planned/scheduled equipment downtime, pending maintenance can be automatically displayed to the production department and used to optimize the maintenance and production windows.
Reduce production stops/delays by maximizing use of available equipment
By enabling the transfer of equipment usage data between production and maintenance IT systems, existing data related to equipment and production processes can be used directly for condition-based and performance-based maintenance planning.
These scenarios highlight the simple, but powerful, effects of integrating information between production and maintenance systems in order to coordinate efforts towards maximizing production and reducing equipment downtime.
SAP Manufacturing Basic Structure
SAP ME – SAP Manufacturing Execution
SAP Manufacturing Execution is a comprehensive manufacturing execution system (MES) solution for discrete manufacturing processes. The highly configurable and customizable nature of SAP ME makes it adaptable and applicable to numerous industries and varying process needs. In other words, SAP ME enables MES functionality to be tailored specifically for the management and control of a production environment.
SAP ERP
Enterprise Resource Planning (ERP) encompasses all core processes necessary to run a company: finance, human resources, manufacturing, logistics, services, procurement and others. Traditional ERP systems integrate all these processes into a single system. The latest ERP systems go far beyond that by using the latest technologies such as machine learning and artificial intelligence, they create additional transparency, efficiency and intelligence in all areas of the company.
SAP PM/EAM
Behind the term SAP EAM (Enterprise Asset Management), formerly SAP PM (Plant Maintenance), is a comprehensive maintenance module. It can be used to integrate maintenance tasks such as inspections, notifications, repairs, maintenance and the actual repair itself with other production IT systems.
SYSTEMA has developed a demo environment to showcase these integration scenarios and system functionalities at any time using a model manufacturing scenario for demonstration purposes.
How does it work?
The linking of master data between SAP ME and SAP ERP PM/EAM is done via the equipment number of the SAP PM/EAM. This is stored on the SAP ME equipment (resource). The maintenance order data is stored in the form of user data for the resource or tool. The status update between SAP ME and SAP PM/EAM, which is decisive for a smooth process, takes place via user status on the equipment. With the standard scenarios, the status NEW (new maintenance order) and PROD (when the equipment/resource is productive) are automatically updated, whereby the status NEW is assigned when a new maintenance order is created. The status PROD, on the other hand, is set when the equipment/resource is put back into production.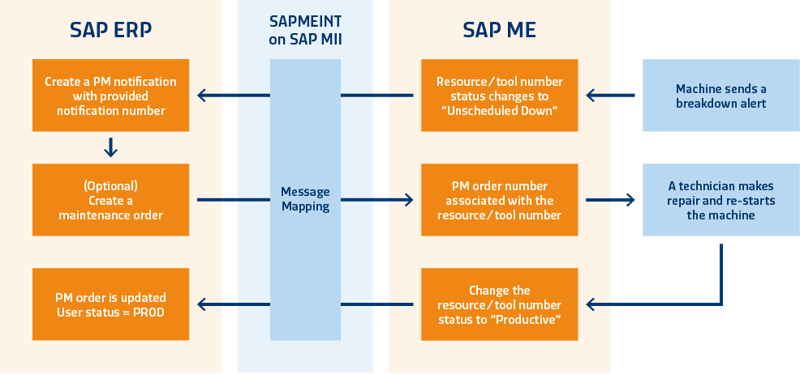 Furthermore, extensions of the functional range are possible. These additional functions are based on the existing integration scenarios and, on this basis, significantly expand the "toolbox" of possible use-cases.
Equipment Malfunction Scenario
In case of equipment malfunction, the data for the maintenance notification can be enriched with information from the production environment. Additional entry fields on the production side are used for this purpose. In addition, the maintenance technicians can report much more detailed information to the MES about the repair status, repair progress, or an estimated time for repair completion.
Preventive Maintenance Planning Scenario
When users plan preventive maintenance for manufacturing, very detailed planning information can be exchanged with the MES via the integration scenarios of SAP ERP/S4 HANA PM with SAP ME. A common example is when equipment is released from maintenance back into production. In this case too, extensive information on the maintenance status or progress can be reported back to the MES. The integration of additional user statuses plays an important role here.
In addition to SAP Standard Status Management, we recommend the following status to be implemented because they are particularly central to the production process:
A Wait-Status which indicates that a job is waiting for the current production task to be processed.
A Scheduled-Down-Status, which is used when the resource is set to "scheduled down

"

in SAP ME.
A Maintenance-in-Process-Status which indicates that maintenance is currently being performed.
An Approval-Status which indicates the completion of technical maintenance work compared to production and signals readiness for acceptance.
These extensions can also be used for performance and condition-based maintenance.
The interaction of production information and maintenance data creates a common data set that opens up further possibilities for evaluation and optimization. Machine learning algorithms can be developed to implement predictive maintenance functions. More information on machine learning and data analytics can be found on our website.