Ricco Walter, on August 13, 2019, 05:46 PM
SYSTEMA expands its footprint in Asia
Growing business demand
"Industry 4.0" entered the manufacturing arena a few years ago as shorthand for the next phase in the digital transformation of production. Most executives are enthusiastic about its potential to improve the way their companies produce, but some are also frustrated by the difficulty of putting their ideas into practice. Nevertheless, the opportunity is too important to miss, both for the industry, in general, in Asia, as well as for Singapore, where manufacturing accounts for one-fifth of economic output.
A brief history on Singapore's economy
After achieving independence (first from the British, then from Malaysia), Singapore launched a modernization program that focused on building manufacturing industries, investing heavily in public education and establishing large public-housing facilities. Since then Singapore's economy has continued to achieve impressive growth. Rapidly, it has developed from a low-income country to a high-income country1. Industrialization has enabled the manufacturing sector to increasingly produce higher value goods and achieve year over year revenue growth2. With strong trade relations and a highly developed free-market economy, the country transformed into one of the most prosperous nations in the world by the 1990s. Global rankings for "Ease of doing business" and "Global competitiveness index" always list Singapore among the top 3 positions.
Focus on high-tech manufacturing
As long as Industry 4.0 remains a promising but abstract concept for companies in Singapore, they might struggle to capitalize on its true potential. SYSTEMA has helped numerous customers around the globe to implement efficient automation of manufacturing processes. This proven track record gives executives and managers the chance to imagine potential applications at their companies much more vividly than they can after merely reading about them.
Semiconductor manufacturing in Singapore continues unabated. The automotive industry in particular is creating a seemingly never-ending upsurge in demand. In addition, there has been a big shift in foundry business, moving towards high mix production with smaller lot sizes. Fortunately, Singapore's government is supporting the transformation of its manufacturing industry – and this creates a promising environment for the establishment of small- and medium-sized service providers like SYSTEMA.
SYSTEMA opens new office in Singapore
With the incorporation of our local company in Malaysia in 2014, SYSTEMA has already built an experienced development and support team in Southeast Asia.
However, the growing number of automation projects emphasizes the importance of a local presence in Singapore. For all our partners and customers in this region the new office in Singapore enables us to react even faster in this rapidly evolving industry environment. With Tan Hai-Sheng acting as our local manager in Singapore, we are happy to welcome a real industry expert with comprehensive experience to our team.
Meet SYSTEMA's Singapore Managing Director!
What is your role at SYSTEMA?
I am the Managing Director of the recently founded SYSTEMA Automation Singapore Pte Ltd, a Singapore registered company. My goal is to increase our local cooperation with customers in the region and to streamline communication. Both of SYSTEMA's offices in Singapore and Malaysia will serve as catalysts to support SYSTEMA's growth within the Asia Pacific region.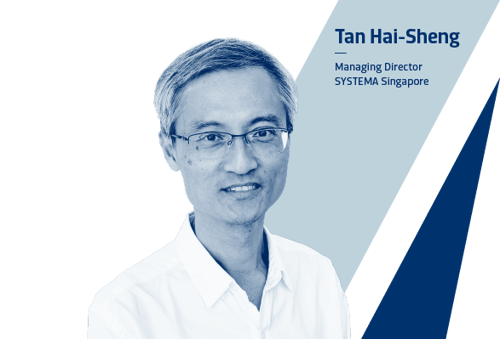 What did you do before you came to SYSTEMA?
I have 24 years of professional experience within semiconductor manufacturing companies, where I was responsible for manufacturing automation and IT Infrastructure. My prior employers were primarily focused on DRAM devices, wafer manufacturing and Backend Test and Assembly.
Why did you choose to switch from the manufacturing industry to a service provider?
I have a passion for automating labor-intensive processes. Switching to a service industry specializing in manufacturing automation allows me to share my passion and experience with a larger community. As Singapore and the entire region continues to grow, the desire to invest in higher levels of automation continues to grow as well. In this role I can utilize my experience to help Singapore and the region achieve the aggressive targets they have established to further innovate and develop into a leading manufacturing hub. Several initiatives are closely aligned with our work at SYSTEMA, such as establishing and increasing the level of manufacturing automation and the development and adoption of industry 4.0 best practices. There are many great companies here in Singapore that will benefit from automation, and I am excited to help them succeed, and to help attract, develop, and grow new companies.
Why SYSTEMA? Why now?
I have worked with SYSTEMA previously as a customer and appreciated the value and knowledge they bring. So, when SYSTEMA decided to establish a local presence in Singapore due to the growing demand for manufacturing automation and support from the government, I accepted the opportunity.
With just a few weeks with SYSTEMA, what have you experienced so far?
Within such a short time span, I have met with various SYSTEMA customers and spent 2 weeks at SYSTEMA's headquarters in Dresden, and in their satellite office in Regensburg, for onboarding. During this time I received training related to our internal processes and I had the chance to meet face to face with the diverse teams responsible for delivery of many of the different solutions we provide. I'm glad to have the opportunity to be part of the SYSTEMA family.
What do you expect to be your biggest challenges at SYSTEMA? What are you looking forward to?
With my past experience working within Singapore's local semiconductor companies, I'm looking forward to growing SYSTEMA within the Asia Pacific region. I'll now be working from the supplier-side, and my desire is to bring my knowledge and expertise together with SYSTEMA's innovative solutions to solve the difficult problems facing our customers; from shop floor automation to paperless manufacturing, from experiment management to ERP integration – I'm excited to get started!
What do you like to do in your spare time?
I like to spend time with my family. I'm married and I have a daughter. I'm a 'foodie' and appreciate experiencing excellent culinary skills from all over the world. To support my appetite and to stay fit, I participate in various sports. I enjoy long-distance jogging most as it also helps to train my mind for endurance.