Travis Stevens, on March 22, 2021, 10:21 AM
Build or Buy Your Next MES?
Manufacturers today rely on their manufacturing execution system (MES) as the system of record for production. Production is, by its very nature, a dynamic and challenging environment and the MES provides manufacturers with a powerful software tool to track and trace, and control and optimize manufacturing processes, equipment, and associated data in the most efficient way possible. The MES ensures the correct next-operation (process, process step, etc.) is performed by a certified operator or technician and is executed at the right time, with the correct recipe, on qualified equipment, using the correct parameters, setup, and direct-materials and consumables. The MES records point-in-process details providing part and product traceability, and real-time transparency for production execution through configurable workflows or process plans, delivering paperless production, process capabilities, and both quality and equipment management.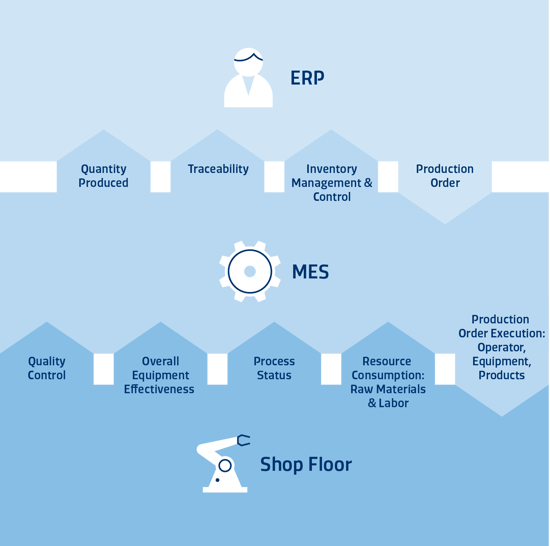 Most likely your MES will be seamlessly integrated with applications including Equipment Integration, Recipe Management, ERP, and PLM … to name just a few. The requirements for the modern MES are complex and require a deep understanding of both your specific processes and their shopfloor scenarios, as well as the MES software itself to ensure it is correctly designed, configured, integrated, deployed, and maintained.
Yes, the MES system is a powerful tool for manufacturing, which is why it troubles me that I continue to encounter IT systems-savvy customers who realize that they need an MES, but for whatever reason remain under the impression that a standard off-the-shelf MES is simply not a match for their particular manufacturing style/strategy or their product niche. I commonly hear that standard MES systems are too difficult to configure or that they are feature-bloated with too many confusing and unnecessary options. In this blog, I'll touch on these topics and offer a few compelling reasons as to why I strongly encourage manufacturers to consider a standard "off-the-shelf" solution as opposed to building or continuing to invest in a homegrown MES.
What Is and Isn't Possible with an MES?
From today's perspective, the manufacturing IT systems from a decade ago – or in the case of many semiconductor companies, several decades ago – including MES and CIM, were seemingly developed to address industry-specific requirements and scenarios. IT system architectures in general, and specifically related to industrial manufacturing automation including MES, have matured considerably over the past decade. MES vendors have dramatically expanded the application of their solution across multiple industrial segments, and now provide features and scenarios that were previously inconceivable based on available technology and integration within the legacy IT landscape. For example, consider the now-common requirement for an MES to provide a detailed, traceable, as-built record that includes value-add production processing at partner-sites under potentially fluid modes of production (high (or low)-volume + high (or low)-mix). Or the requirement to plan, execute, track and trace complex and technically demanding experiments across a network of facilities worldwide, and provide detailed data to support technology, product, process, and quality development engineering.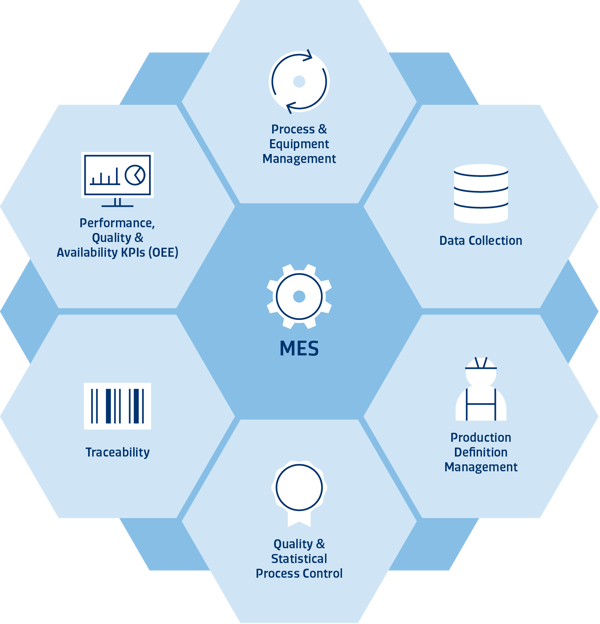 While these requirements are now common, I continue to encounter highly successful customers that have leading-class expertise in "design to device" or "large-scale production" working within highly regulated manufacturing environments that struggle to manage even basic MES requirements as provided by their homegrown or legacy systems:
Real-time, recent-past, and future WIP visibility
Hidden-factory inventory management (Qualifications, Test, Dummies, etc.)
Management of Product- and/or Process-related capacity constraints and bottlenecks
Planned and unplanned equipment downtime management
Proactive realization and consistent management of common shopfloor events know to impact WIP, Quality and Production Control
Forecast, planning, and execution models using past and current production data
Management of experiments
Forward and Reverse traceability including a complete as-built record
The MES system within today's manufacturing IT landscape is a mission-critical, strategic asset. These fundamental requirements listed above are but a few of the basic building blocks needed to develop increasingly higher levels of automation scenarios. For this reason, it is crucial that each manufacturer take the time to not only understand the features of a standard MES but also how to map these features to their specific needs – both today and as far into the future as they can plan.
Manufacturing Execution System vs. Manufacturing Operations Management System
Common misconceptions as to what an MES should be capable of often lead to disappointment and frustration when evaluating off-the-shelf solutions. Often, requirements initially assigned to the MES are better described within the larger context of a manufacturing operations management (MOM) system landscape. The MOM system landscape defines a collection of software components collectively responsible to manage your end-to-end manufacturing processes. Unfortunately, even today there is not a single all-in-one MOM solution providing turn-key functionality for every possible manufacturer across every industrial vertical in which they produce components or finished goods. The good news is there are very likely commercial software packages available to meet your specific needs. The strategic decision you will face is deciding if you will select an "integrated single-vendor" solution or a "best of breed", or most likely, a hybrid approach.
Integrated Single-Vendor MES Solutions
While there are no single solutions fitting all industries, there are single-vendor solutions delivering a vertically integrated solution and technology stack with industry-specific variants. The dominant player in the market today is SAP. Having established themselves as the undisputed leader in ERP software they have systematically developed or acquired and deeply integrated solutions addressing each layer of the ISA-95 model. Importantly, they have done this for discrete, continuous flow or process, and hybrid manufacturing variants – which speaks to the needs of many multinational manufacturing companies today. If you are currently an SAP ERP user there are strong arguments to seriously consider this industry-leading solution architected and designed by a single vendor with an integrated and consistent roadmap, architecture and technology stack. SAP strives to align from shop floor to top floor the technology, data objects, and necessary integration. As an existing ERP user, you will naturally benefit from leveraging existing relationships for licensing, maintenance and support, allowing you to leverage existing SAP expertise to reduce training and overall administration, and maintenance and support costs. SAP manufacturing solutions offer modular integration from ERP to equipment and IIoT (Industrial Internet of Things), allowing you to deploy either in a big-bang or incremental, as-you-grow approach. SAP ERP modules are tremendously vast and their industry experience is legend. At a high level, their solution includes Financial Accounting (FI), Controlling (CO), Sales and Distribution (SD), Production Planning (PP), Materials Management (MM), Quality Management (QM), Plant Maintenance (PM), Human Capital Management (HCM), Project Systems (PS), Logistics Information Systems (LIS), Supply Chain Management (SCM), and Extended Warehouse Management (EWM). More germane to this blog are the SAP Manufacturing and IIoT solutions – including on-premise and cloud-based offerings for Digital Manufacturing. These solutions can be deployed standalone to immediately address current manufacturing ramps, or they can be deployed using vertical, end-to-end solutions designed and configured for your particular MES and IIoT needs.
Best-of-Breed MES Solutions
While single-vendor approaches are compelling, there remain strong competitors within the best-of-breed solution space. These vendors typically do not offer a fully integrated solution and technology stack from ERP to shop floor, but instead differentiate themselves with industry-specific, "best of breed" capabilities. Understanding that the ERP layer is likely defined (Microsoft, Oracle, SAP, etc.), they bring significant experience functioning within their respective ISA-95 layer(s), as well as integrating with other "best of breed" software solutions (Equipment Integration, SPC, APC, FDC, R2R, Recipe Management, AMHS (Automated Material Handling Systems), Reporting and Analytics, and so on). They further differentiate themselves by offering solution-critical features tailored toward manufacturers in specific industries. For example, Critical Manufacturing's Industry 4.0-ready MES offers the semiconductor and high-tech industries (Semiconductor Front End, Back End, SMT, Medical Device, Aerospace and Defense) an industry-proven, feature-rich solution currently unmatched for complex discrete manufacturing. Critical Manufacturing continues to invest, rapidly develop and expand functionality in IIoT and Industry 4.0, and continues to challenge the fully integrated solutions with its specific focus on the requirements and needs of manufacturing and equipment integration and automation within high-tech industries. Their UI/UX is well accepted on the shop floor, and their ability to adapt and deliver innovative products continues to impress customers and industry pundits alike.
Regardless of whether you choose a MOM architecture using a single-vendor or best-in-class approach, your manufacturing landscape will be designed, configured, integrated, and deployed with the objective to provide seamless integration for your master data management, addressing the three main domains of manufacturing IT systems: planning, execution and order-execution1. Furthermore, you must accomplish this while ensuring you deliver against the core needs of your specific businesses and manufacturing initiatives.


Before You Start: The Business Blueprint
For greenfield (e.g., new factories), and brownfield (e.g., existing or acquired factories) initiatives I often find during initial scoping discussions that there is an incoherent and disparate collection of IT systems owned and managed by different business functions, across multiple sites and possibly different vendors. This sheds light on the critical work that I believe must be completed prior to software architecture, selection, procurement or implementation cycles – the critical task of creating a coherent vision encompassing the global, strategic, manufacturing-IT landscape, including any of the associated transformation, migration and business process reengineering objectives you are facing. This so-called "business blueprint" should be the starting point for IT transformation – regardless of whether yours is a small- or large-scale initiative. Without a blueprint, it is nearly impossible to make educated decisions as to which system, process, role, business function, etc. is accountable for which part of the overall MOM system landscape. By first mapping all processes of the business landscape into a fully integrated, manufacturing-IT landscape, efficient planning, production optimizations, and data-driven decisions become possible.
While the MES system itself is not the center of the IT universe, it is often the center of the manufacturing operation's universe. It is my experience that customers never regret taking the time to fully develop a Business Blueprint. In doing so, project leaders can clearly articulate the project objectives and, together with their stakeholders, balance project scope, timeline, priorities, effort and ultimately the return on investment in the context of their specific business and needs. Business blueprinting is difficult work, especially on a global scale across disparate business units and manufacturing industries. The work must involve executive sponsorship, active steering and direct engagement from many organizational stakeholders, each having both organizational influence and experience with the current-state systems, as well as a motivation to develop a shared vision of the end state. Once the blueprint is complete, the available MES applications can be efficiently evaluated, selected, designed and deployed within the larger MOM context.
Homegrown vs. COTS vs. Standard MES
Existing customers often have some form of established MOM environment in place. The environments range from paper and electronic spreadsheets to sophisticated application frameworks that have been continuously updated and extended over decades (typical for large, multinational semiconductor customers). Most often these customers understand their processes inside and out, and are keenly aware of the issues arising across plants, shifts, product, and technology variants. Existing systems are typically highly "customized off-the-shelf" (e.g. COTS) MES, or in some cases a homegrown MES system, or minimally a set of loosely connected business processes and siloed applications banded together to deliver some basic MES functions. For these customers, the motivation to change is quite often focused toward adoption or adaptation to new or increasingly relevant disruptions to existing business. Maybe they are entering a new market segment requiring rich, detailed traceability reports – reports that drill down to the exact sequence of dates and times for production operation, including the operator, recipe, and equipment with specific setup and parameters details. Maybe they are experiencing a hockey-stick production and technology ramp, forcing them to take a hard look at the efficiency, utilization, inventory management, planning, or quality – often all of them together – to achieve the ramp within planned time and costs. Maybe they are reshoring their manufacturing and taking the opportunity to increase their automation to hold production costs steady while increasing quality and reducing supply-chain disruption and IP loss. In these cases, existing systems have likely reached their limits and the Business Blueprint provides a unique opportunity to reevaluate and reengineer business processes to fully exploit the benefits associated with a modern IT infrastructure, including instrumentation (IIoT), software (MES, ERP, Equipment Integration and Automation), and infrastructure (Cloud, On-Premise, Edge).
Why Should You Consider a Standard MES?
The MES industry continues to be competitive and, as a result, we see tremendous progress in system maturity – as well as increased consolidation (e.g. Siemens acquisition of Camstar). Today's standard MES systems deliver on the promise to increase production and equipment efficiency (OEE), reduce cost, automate data collection, and deliver traceability2, enabling manufacturers to consistently meet their customers' requirements while further exploiting their uniquely differentiated competitive advantage in the industry segment. The specific requirements of an MES can and do vary depending on the manufacturing style – Continuous Process, Batch/Repetitive Flow, and Complex Discrete – as well as on the manufacturing strategy – Build-to-Order or Build-to-Stock. Fortunately, today there are likely several vendors offering solutions targeted for your specific manufacturing style and strategy.
As you develop your Business Blueprint you will undoubtedly need to consider the disruption and cost associated with selecting, implementing, and migrating to a new MES against competing business investments. To help motivate you to plan and prepare, I'll provide a few ways to assess your current environment as you start to build your Business Blueprint.

1. Are Your IT Systems Limiting Your Ability to Manage, Grow and Optimize Manufacturing?
Maybe you have nonexistent or very limited IT systems, and they are clearly limiting your ability to scale and grow. Maybe you have mission-critical processes run solely on tribal knowledge that are negatively impacting production across shifts due to locally optimized decision-making. Maybe you realize that, as your company expanded, business processes were implemented one by one to ensure a particular form of misprocessing was prevented or captured and contained earlier. As the complexity of your business increases, the challenges increase with time, and the "bailing wire and duct tape" fixes continue to interact and cause unexpected issues. Or maybe your systems were developed by a key employee over decades and are now at risk as retirement nears. Or maybe key resources would be better utilized solving more complex problems, but they are stuck in the break-fix cycle as the sole experts of the existing systems. While these are not limitations of IT systems themselves, they point toward the powerful benefits of developing and deploying a new system. You can take the time to ask the "5 Whys" until you truly get to the root of the business process. Often, we eventually hear "… because it's always been done that way…". Mapping business processes to the new system allows you to reexamine and discuss why things are done and reengineer how to do them better.
With the radical improvement in industrial instrumentation (IIoT) automation – in terms of capability, and cost to purchase, deploy and maintain – it's increasingly common that a simple IIoT device and software can be used to replace repetitive and mundane processes previously requiring humans. Ideally, we use the opportunity to educate and elevate the human-based work – instead of troubleshooting a known and predictable problem, the human brain is dedicated to solving higher-order problems that require synthesis and collaboration. Instead of monitoring single, point-in-process variation, operators are utilized to monitor entire work centers or process groups. In addition, they are trained to configure automation workflows and are provided the necessary tools to help them manage exceptions currently beyond the ability of cost-effective automation.

2. It's Time to (Re)think Your Processes.
You undoubtedly have business processes that need to be re-engineered – the good news is that these are likely the low-hanging fruit. Within the business blueprinting process, you will surely uncover dependent or interrelated processes that will need to be considered and reengineered. These processes may currently be difficult to maintain and manage or may knowingly introduce unnecessary risk to manufacturing in terms of quality or throughput. Fortunately, as you map your processes against different MES solutions, you will be exposed to the consolidated knowledge that is baked into state-of-the-art MES systems. Vendors are constantly adapting and integrating new business requirements into their solutions and, through your assessment, you can evaluate different approaches and learn a great deal from them. Standard MES features are the first reveal, but as important is the experience of your systems integrator (SI) together with the MES provider. Experience allows the SI to see patterns and apply prior configurations or scenarios to solve classes of patterns differently for different customers based on their unique needs.
You should avoid the trap of mapping your current business processes into the new system and instead take the opportunity to fully understand how the MES system would support the desired result of your business process. Yes, this means there will be a significant amount of change management and training, but you will be better served adopting the standard solution as opposed to forcing the new system to implement your prior business process. Again, this is the reason you need a strong SI on your side – ideally, they have successfully implemented the MES solutions under consideration for a number of different customers across different industries, and they know the impact of different scenarios as well as the pitfalls of going down path A versus B.
If you are a global, multinational manufacturing company you will have an opportunity to address the complexity of your manufacturing operations in terms of regional and global requirements. It will likely make sense to develop a global template balancing the upfront cost to elicit and synthesize requirements from each site with the long-term savings to accelerate subsequent deployments through reduced cycles of learning and standards adoption. As the standard system is rolled out to new sites, the project will accelerate and the benefits associated with consolidated teams working across multiple sites (Center of Excellence) should not be underestimated. Upon completion, new or emerging business opportunities can leverage the global team, as the impact and benefits are more readily assessed and realized with a standard system deployed using a global template.

3. Total Cost of Ownership & Your Technology Stack – They Still Matter.
In both small and large companies there is a perennial focus on the costs associated with maintaining IT solutions over the decades they will be running (total cost of ownership or TCO). While there may be valid business reasons to use different technology stacks and incur the necessary integration among different vendors, there is an increasing focus on limiting the number of vendors and solutions. Within your MOM landscape, each software interface and technology stack variant present a unique opportunity for failure that must be continuously assessed and managed – particularly when one vendor is upgrading and potentially deprecating parts of their API used to implement the integration. The tough decision to select a collection of "best of breed" applications versus a "single-vendor" lock-in remains relevant today and there are strong arguments for both. Keep in mind that we will likely see continued consolidation in the MES industry, with the result that the most competitive vendors will either be purchased and integrated (e.g. Camstar → Siemens; Visiprise → SAP), or will be highly motivated to develop a powerful yet unified end-to-end MOM solution (Critical Manufacturing). The cost to staff, train, procure, implement, and manage the solution(s) and infrastructure will continue to be an important consideration, and I believe, as the industry continues to consolidate, it will be increasingly difficult to avoid the fact that vertical integration from a single vendor delivers long-term value.
To remain competitive, MES providers must keep their technology stack updated and applicable to recent developments in infrastructure and system administration. Several providers are now offering solutions for pure cloud deployment, as well as the more common cloud- and edge-based architecture. This is a compelling offering for companies with limited resources to manage infrastructure and system administration, and in my assessment, the all-in costs are very competitive when compared to a complete staffing model for traditional on-premise solutions. For sure, acceptance of cloud-based solutions remains controversial in some geographic regions, and several MES vendors offer differentiated solutions for both on-premise and cloud. The final decision can be complex and will include consideration of IP security, data privacy and ownership, data latency, and network stability, to name just a few variables. The good news is that you will not be a bleeding-edge user of these systems – they are currently in use by both large and small enterprises operating regionally and globally. I would expect that going forward there will be a significant increase in the number of customers selecting cloud-based MES solutions – especially in cases where data latency and volumes are manageable.

4. Big Data, Machine Learning, On-Premise, Edge, Cloud – What Does the Future Hold?
Modern MES systems maintain development roadmaps committing their support to new technology developments, including IIoT, Big Data, and machine learning. Today's known technologies continue to push applications and processes forward in new ways. As important, MES vendors continue to monitor industry trends, and where there is customer value and product differentiation, continue to invest and develop new technologies within their products. This is critically important – when considering a standard MES system you are not just purchasing the solution of today, you are likely purchasing maintenance and support allowing you to continue to receive critical updates and future features. As underlying technologies, databases, operating systems, and hardware change over time, the software must be updated to support them. Leading MES providers have dedicated teams focused on product roadmaps, as well as technology and infrastructure developments.
Historically the MES system was an on-premise application. Often production stops if the MES is unavailable for any reason and, as a result, many manufacturers were hesitant to adopt a cloud-based MES. Their concerns also included availability, scalability, data latency, and a general distrust of allowing manufacturing data – e.g. the recipe and process plans of the manufactured product – to be stored and managed on a remote server. Today, the cloud-based MES solution is rapidly becoming standard. The common deployment involves a cloud-based MES tightly coupled with an edge-computing solution. This architecture assures availability and increases processing speeds, thereby minimizing data latency effects. Data security and privacy for each vendor must be strongly considered, but industry leaders offer complete solutions including private-cloud deployments, accompanied by enterprise-ready assurances for data privacy and security. I believe that cloud-based MES systems will become the industry standard in the next 5 to 10 years, with the exception of manufacturers managing extremely high data volumes and producing technology or products directly related to national security.
It's Time to Select and Deploy a Standard MES
MES and MOM systems are increasingly considered a strategic asset. The modern factory systems IT landscape enables manufacturers to truly optimize complex manufacturing processes, technology development, and sophisticated supply chains. These systems, when designed correctly, provide the basic foundational building blocks necessary to achieve increasing levels of automation – thereby future-proofing your factory. While the process to blueprint, select, and deploy a modern systems landscape is easily understood from a conceptual perspective, the actual work is time-consuming and complex. Working with a systems integrator (SI) knowledgeable in MES and MOM environments will help you map out your business processes, and select an MES/MOM system that will meet your needs, now and in the future. When taking on this important initiative, don't miss the opportunity to evaluate, understand, and where necessary, reengineer your business processes. Organizational change management will be a crucial element but, if managed correctly, you are sure to gain invaluable insight into the fundamentals of your business, and you will come away with a system implementation that is at least minimally based on IT standards and norms – which is a great place to start as you build increasingly more sophisticated products, technologies, and manufacturing processes. In selecting a standard MES product, you will greatly benefit from the fact that the MES industry is highly competitive and its leaders are motivated to continuously adapt and develop integrated solutions that may not originate from your industry today, but provide significant value to you when correctly applied to your manufacturing domain. Furthermore, it remains the MES vendor's responsibility to continuously monitor, evaluate, and deploy solutions related to infrastructure and maintenance. Unless you can clearly demonstrate that you have extraordinarily complex or differentiated business processes, I believe there are very few arguments to support building your own MES or continuing to invest in a legacy COTS system.
1 "Manufacturing and Supply Chain Management; Heinrich Kehl; 2009.
2 "Digital manufacturing is the future of productivity"; SAP; 2020