Yuval Goldenberg, on July 31, 2019, 11:05 AM
"Customer Experience is Everything" – SYSTEMA and Barkan Winery Present at ISUG 2019
"I once met a company CEO who said that his biggest competitors are the celebrities on Instagram. Kylie Jenner, the youngest billionaire ever, uses the experience economy perfectly. With 139.6 million followers on Instagram, she uses customer experience to sell cosmetic products."
And so Stavit Navon, CEO of SAP Israel, captured the attention of the crowd at the 2019 SAP ISUG (SAP Israel Users' Group) conference. Navon then continued to bring it home, "SAP provides a solution landscape that addresses the issue of [the] experiential gap – the experience gap – adding operational and experiential data to every customer and industry thereby helping organizations be ready."
This year's ISUG conference, Business is Powered by Feelings: SAP Experience Management, focused on the customer experience and how SAP, which 10 years ago was not in the cloud, has closed the gap. SAP now has more than 3,000 live customers in the cloud with S4 HANA and nearly 11,000 more that will be transformed to the cloud in the near future.
Keynote speaker Mr. Vahid Hamssi, Head of Global Customer Strategy at SAP, was quick to note that, "An organization that does not compete on (user) experience will quickly find itself in a race to the bottom."
Hamssi elaborated, "In the past, the innovative companies were Google and Apple. According to Fast Company's The World's 50 Most Innovative Companies 2019, new companies now top the list. For example the number two company on this year's list is Singapore's Grab which provides payment, catering, and transportation services – and it's all about customer experience – the world is changing!...When my grandmother wanted to bake a cake, she went to the market and bought groceries for $1, and my mother, who was a working woman was able to buy pre-made cake powder for $2. My wife orders a $20 pre-made cake online and my children, who want a birthday party every week, are willing to pay $80 for a fully-customized pre-made cake delivered just in time for their party."
With those thoughts in mind, over 1,600 attendees headed to ISUG's seven conference tracks:
Digital Core – Finance & Risk
Digital Supply Chain
Data Strategy & Innovation
Customer Experience
People Engagement
Cloud Platforms & Services
SAP S/4HANA Move
As part of the Digital Supply Chain conference track, Mr. Inon Snapir, COO at Barkan Winery, and I presented the Digital Supply Chain solution that we implemented for the winery. With its focus on the customer experience from the perspectives of finance, operations, and shop-floor users, this digital supply chain solution was a good fit for the ISUG conference. It definitely demonstrated our belief that "Customer Experience is Everything" and we selected three examples that best highlighted this mantra.
Now before we go further, let me just add that having a world-class winery to collaborate with has its own benefits. I can attest to the customer experience they provide. Barkan Winery is located in the Judean plain of Israel and has a reputation for bringing modern technology to the science of wine making. For over 25 years, Barkan has delivered world-class wines that are consistently recognized in prestigious competitions throughout the world.
Barkan Winery – Where an Exceptional Customer Experience is a Top Requirement
As an experienced SAP ERP user, Barkan wanted to deliver increased transparency and integration of its wine production to its stakeholders in Finance, Operations, and on the Shop Floor, while also delivering on its promise of an exceptional User Experience. We at SYSTEMA used three key components to deliver on that exceptional User Experience: Automation, Integration and Visualization.
#1 – How to achieve real-time financial transparency? Shop-Floor Automation!
To increase financial transparency and real-time visibility, SYSTEMA automated Goods Movement transactions on the shop floor with the SAP ERP system. At ISUG, Mr. Snapir and I gave an overview of the requirements and the conceptual design of the solution now successfully operating at Barkan Winery. We also shared the "Customer Experience" side of the solution – the positive response from Barkan's finance department to having real-time costing information for production WIP on the shop floor. Before automation, a real-time accurate view of stock was previously unavailable to the Barkan teams.
How did SYSTEMA do it? To automate Barkan's Goods Movement from the shop floor to the ERP system, SYSTEMA used SAP MII (SAP Manufacturing Integration and Intelligence) message services. The solution basis is an "out-of-the-box" integration layer provided by SAP as part of the SAP MII application suite. SYSTEMA worked closely with Barkan stakeholders to define and then iteratively develop the business logic and user scenarios defining the Goods Movement transactions within Barkan's manufacturing processes.
#2 – How to collect quality inspections? Integration!
How do integration and shop-floor automation impact the reliability of test results? Mr. Snapir discussed the SAP MII solution SYSTEMA developed to automatically capture quality inspection data and transfer these measurements to the MES. Using SAP MII, SAP PCo (Plant Connectivity), and SAP MII BLS (Business Logic Services) various measurement devices were integrated, and the associated measurement data is now automatically captured and entered into the system of record.
Automating the capture and recording of inspection data has dramatically increased both data quality and data availability, allowing Barkan to consistently use production data to evaluate and optimize processes and product quality. Previously, test results were lost due to manual processing. Now, through integration and automation, the winemaker can concentrate on optimizing the development and production of Barkan wines with the knowledge and insights gained from the availability of all test results.
#3 – How to present complex data sets to shop-floor users? Visualize!
The final challenge was to synthesize over 300 data silos (that is, casks of wine), and over 1,500 real-time OPC-tags in order to present actionable information for shop-floor decision making. To achieve this, SYSTEMA designed and built an SAP Fiori based dashboard to display the relevant information needed for operations and shop-floor users. Based on SAP BUILD.me and Fiori technologies, the dashboard is presented on a 4K screen, dramatically simplifying the user experience.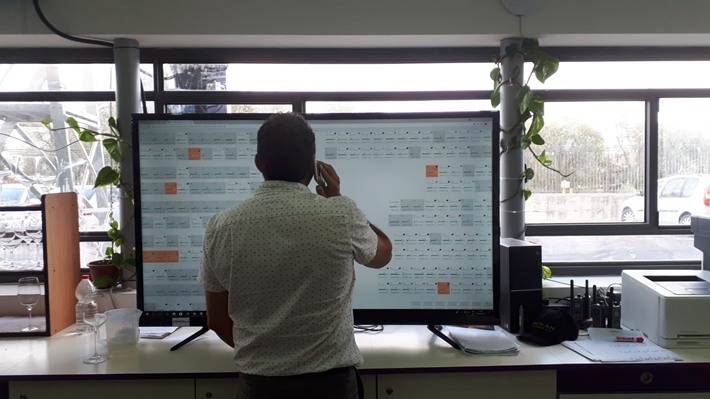 Previously it was a challenge for the Barkan teams to maintain a complete and accurate view of production. Staff had to access multiple systems, each with a different user interface, resulting in an unsatisfactory user experience. The solution now in place at Barkan brings the necessary information together in one unified view. With this solution, Barkan maintains visibility of the status of wine silos and the associated raw materials for personnel working in Finance, Operations and on the Shop Floor – all with a User Experience, as Mr. Snapir told the ISUG crowd, which exceeded expectations!
Some Final Remarks on ISUG XO 2019
ISUG XO 2019 was a great opportunity to meet again with the #SAPManufacturing community in Israel, which is quickly growing larger every year. It was a pleasure to meet with our current customers, potential new ones, and with our partners to demonstrate and discuss how to improve the User Experience with SAP tools. Until next year!