Helen Leps, on February 17, 2021, 06:36 PM
Introducing SYSTEMA Brazil
Meet SYSTEMA Brazil and Managing Director, Jorge Mottecy
Fortunately, 2020 wasn't all bad news! In July Interface's and SYSTEMA's teams merged. With SYSTEMA Brazil we are now even better able to serve customers and partners worldwide and especially in South America. In this interview with SYSTEMA Brazil's Managing Director, Jorge Mottecy, we introduce our new team in Brazil.
What prompted the merger of SYSTEMA and Interface?
Jorge Mottecy: The merger just made sense on a number of levels. SYSTEMA and Interface started working together in 2015. Right from the start we complemented each other quite well. As we continued to partner on a growing number of complex manufacturing automation projects, it became clear that it was only a matter of time before Interface would officially join the SYSTEMA family. Interface's experience in the process industry and reputation throughout Latin America help SYSTEMA significantly expand its global network and provides a local contact to manufacturers in this region, which is a significant benefit.
What is Interface's core business?
J: Our team specializes in the implementation of MES projects, using mainly SAP Manufacturing Integration and Intelligence (MII), by bringing years of experience and expertise. Just after SAP's MII software was released in 2005, our founder, Marcelo Vieira, saw the advantages MII offered for manufacturers in all industries and started working almost exclusively with SAP MII.
Since 2005, we have implemented complex solutions for enterprises like Coca Cola FEMSA, Essentia and TEKNO. We have been able to adapt our learnings from projects in the process industry to all kinds of scenarios in discrete industries and are currently supporting SAP Digital Manufacturing Cloud for execution (DMCe) projects in India and Southeast Asia.
We are excited to now be able to help SYSTEMA customers who want to establish or expand production facilities in South America by offering on-site support in the native language. Sharing a common language and time zone has proven to be an important benefit to the manufacturers we work with.
After 6 months with SYSTEMA, what stands out the most?
J: So far, it has been a process of growing together and getting to know each other.
Due to SYSTEMA's global structure, we are now working closely together on projects with experts from all over the world. This can present challenges, not only due to differences in time zones, but there are also cultural differences in communication. For example, in Germany it is expected that meetings end on time in order to allow for the timely arrival to the next meeting. In Latin American, on the other hand, we are rather flexible on this point. We've learned that there is a certain amount of patience, mutual understanding and compromise required when learning how best to work as a part of a global team.
We have been able to take this new cultural understanding back to our work with our customers here in Latin America. We feel that the priority above all others is in the personal relationship we build with our customers. It's the "getting along well" that is important – sometimes more important than the technical know-how. In doing so, we are able to make sure that the valuable work which SYSTEMA does is properly received and understood by our customers. In the other direction, we have the ability to clearly communicate and "translate" customer needs back to SYTEMA project teams in other parts of the world.
Introduction of the Managing Director of SYSTEMA Brazil, Jorge Mottecy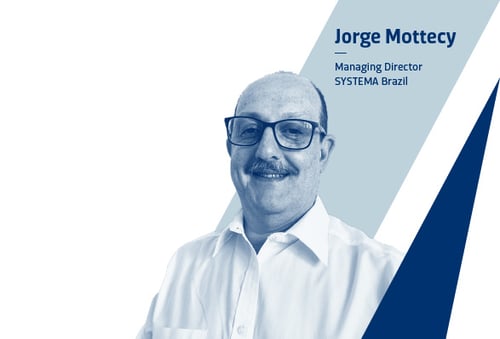 What is your role at SYSTEMA?
J: I am the Managing Director of SYSTEMA Brazil and Key Account Manager for all the customers in Latin America. I started working with SYSTEMA back in 2010 on several projects before officially joining Interface in 2012.
But my first love – company wise, was Whirlpool. I worked for them for 23 years in a wide variety of business areas around the world. I gained my experience with manufacturing systems working in many Whirlpool plants in Brazil and in USA, and leading Whirlpool projects of products development and launching in global markets.
What surprised or excited you most in the past few months with SYSTEMA?
J: We are thrilled to have found exactly what we were looking for. In order to grow technically, and in terms of the acquisition of new projects, we needed a bigger infrastructure along with additional know-how and experience in many different manufacturing scenarios and in working with experts from other fields. SYSTEMA willingness to collaborate with us provides inspiring mix of opportunities for future growth for everyone involved.
What do you expect to be your biggest challenges at SYSTEMA?
What are you looking forward to?
J: I think this will be the cultural adaptation – well, it is more an adventure than a challenge. Either way, we will learn a lot from each other in this process.
I am looking forward to 2 major things. First, I want to bring large DMC projects to life and, fortunately, there are some DMC projects in the works right now. Second, I can't wait to implement the MAX Suite package for our customers. MAX Suite delivers quick and efficient MII project deployments around the world.
What details can you share about the Brazil office?
J: SYSTEMA Brazil is located in Salvador, the capital of Bahia, the biggest northeast state in Brazil. Salvador is a big city with a population of more than 3 million people. Because the city is located along the coastline, almost everything is near the beach – including our office!
Salvador was the original capital of Brazil and is a very cultural and religious place, hosting the second biggest Carnival (…maybe the best…) of the country. Salvador is an incredible place to both live and work.
Last but not least – something personal, e.g. imagine you should describe Brazil to a guest in 3 words? What would that be?
J: Diversity (of cultures and ethnicities) – Kindness – Adaptability:
Brazil is one of the biggest countries in the world in geography, population and economy. Its continental proportions and its massive migration from other countries brings a unique diversity and cultural mix that allows us to interact easily with other people regardless where they came from.
We are proud to bring these qualities to SYSTEMA and to our customers all around the world. I am pretty sure that this "Brazilian touch" will enrich the SYSTEMA family and our relationships with customers and partners.